Technical Support
NSK RECONDITIONING SERVICES
Greater Value
from Critical Assets
NSK provides our customers with the best possible opportunity to maximize bearing life cycles and minimize downtime with sustainable solutions. In continuous casting and rolling mills, the severity of applications can lead to the onset of damage resulting from contamination or metal-to-metal contact that prevents bearings from achieving their calculated life. In many of these instances, the fatigue of the bearing can be foreseen – if not prevented – and the effective service life of the bearing can be extended through a service program to recondition bearings to like-new specifications.
PROVEN BENEFITS
| | |
| --- | --- |
| | Extract maximum service life and value from high cost bearing assets |
| | Realize savings compared to the cost of buying a new replacement bearing |
| | Overcome lead times traditionally associated with large-size bearing replenishment |
| | Optimize inventory utilization and investment |
| | Reduce carbon footprint of new bearing production |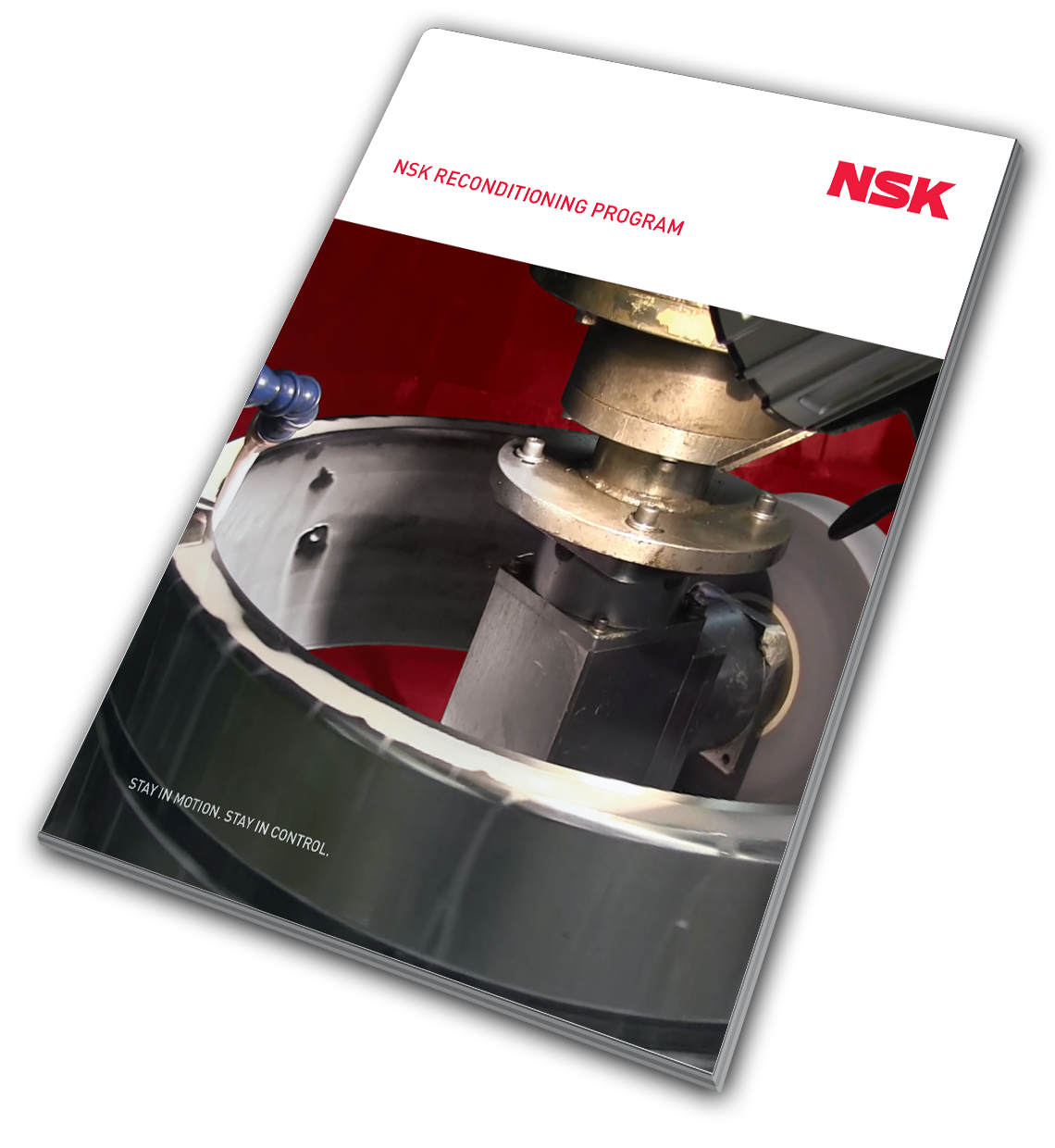 BUSINESS CASE:
CASTER BEARING RECLAIMs
Bearings used in guide rolls of continuous casting machines operate under extremely severe conditions including heavy loads at ultra-low speeds as well as debris and water contamination. Roll life can usually be measured in months.
But if pulled from use on time, as many 60% of the bearings per segment can be reconditioned and returned to use. For as many as 2 to 3 additional campaigns.
NSK RECONDITIONING:
A CONTROLLED PROCESS
Reconditioning services can range from polishing and minor repairs to regrinding raceways and replacing components. Not all bearings can be restored and returned to use. Operating conditions may be too severe, damage may be too profound.
From the outset, NSK performs a rigorous analysis to evaluate a bearing's potential for successful reconditioning to like-new specifications. Additionally, we work with our customers to identify root causes of damage in order to create and implement corrective or preventative maintenance measures.
Our range of reconditioning services include:
| | |
| --- | --- |
| | Pressure cleaning |
| | Inspection, with damage analysis report |
| | Verification of raceway, bore, inner / outer rings, cup, cone, inner, outer and roller angles |
| | Provision of new components (rolling elements, pins and cage rings) as required |
| | Regrinding raceways |
| | Polishing, vibratory finishing |
| | Verifying and resetting clearances measured |
| | Preserving, lubricating, packaging for long-term storage |
For all bearings restored at NSK's Reconditioning Center, our customers can expect the same adherence to process and quality assurance measures that is applied to the manufacture of original NSK bearings to ensure successful operation.
Product Range
Candidacy for reconditioning is typically viable for a wide range of large-size bearings including:
| | |
| --- | --- |
| | Spherical roller bearings |
| | Tapered roller bearings – single and multi-row |
| | Cylindrical roller bearings – single and multi-row |
| | Deep groove ball bearings |
For steel mill applications in particular, NSK reconditioning services are widely employed for:
| | |
| --- | --- |
| | Caster bearings – spherical and cylindrical roller bearings |
| | Work roll bearings – multi-row tapered roller bearings |
| | Back-up roll bearings – multi-row cylindrical and tapered roller bearings |
| | Slewing ring bearings |
NSK owns and operates our Reconditioning Service Center in Alliance, Ohio, providing a wide array of reconditioning and bearing modification services.
For more information, contact NSK.